Design Your Perfect Custom Store
Welcome to the brand new Package Builder! Start from the store basis valued at US $299, add options that suit you best — and let us create a high-class website for you!
With this super-handy constructor, you can easily:
Build your own unique combination of store features
Expand the size of your catalog up to 700 items
Add extra services & promo tools you really need
Speed up your business launch and first sales
BUILD MY PACKAGE
World's #1
in online store creation
Overall rating
$108M
in client profit this year



How it works
1. Make your choice
You build your unique custom store package: pick a niche, a catalog size, services & tools
2. Finish the order
You make your final choice of store features & additional options — and make the payment
3. Discuss details
You meet your personal manager who contacts you and starts working on your order
4. Sit back and relax
Our professional team creates an awesome custom store according to all your preferences
What's included in the store
US $299,
one-time payment:
Domain name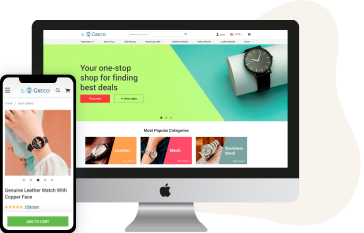 Mobile-friendly
AliDropship store theme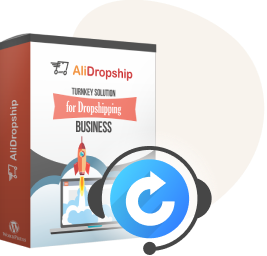 AliDropship plugin + free
updates & support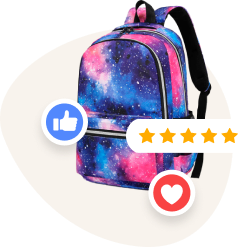 50 high-demand products
ready to sell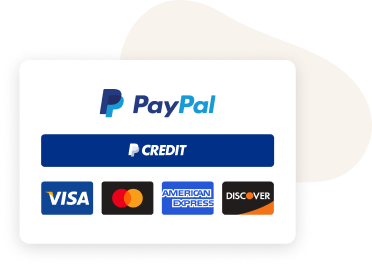 Payment gateways
(PayPal, Credit cards)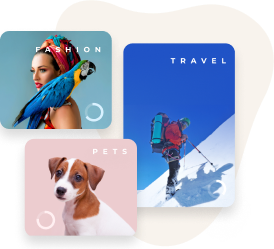 Niche research
(optional)
Enhance this solid base with your own unique combination of cutting-edge services, promo tools and powerful hosting — and skyrocket your new business from day one!
BUILD MY PACKAGE
Interested in dropshipping business but still have questions?
Our experts will answer all of them!
Here's what our customers say:
"I reached out, I paid for the Custom store, and someone reached out to me immediately. Suddenly the entire team was working on it! They did everything: they did SEO, they set up the email marketing, they set up the entire design… I had a manager just doing a logo!"
"The whole experience has been really wonderful, especially, with my personal support manager who provided me with the step-by-step process of the development. I highly recommend that you get a custom store if you have no idea what to do or how to develop your website like me. My website looks really great."
"Since I had no experience whatsoever about dropshipping. I was afraid that the custom store could be too much for me, too difficult for me. But working with the team of AliDropship, especially my manager Vika Kudryasheva, things became clear, easy. And I'm happy about that. My custom store was ready in less than a week and I was so excited! My main goal is to make my custom store successful with good profit."
"You guys did an excellent job, especially the project manager Kate. The communication with all of the staff was friendly and professional. And I'm very excited about the website that they designed. I definitely would like to work with the company in the future."
"Throughout this website building journey you may have questions, they continue to support and advise you. AliDropship also provides add-ons for newbies like me with Premium Products and Social Rabbit. That's what I'm using right now to help me kickstart my dropshipping journey and accelerate my online marketing using social media."
"AliDropship is well-established in dropshipping. They have a rich knowledge base and really good resources for dropshippers. The team was constantly in touch with me and communication was easy and clear. I'm very happy and satisfied! Thank you!"
"I've been meaning to build an online hat store for a couple of years actually, and I eventually started looking into it just after the lockdown started. Without AliDropship, I would not be where I am: we're already trading. So, I just wanted to say big thumbs up to them, ten out of ten."
"I really appreciate all the support and guidance. Thank you for the patience, for all the questions that I have given, for all changes that I have made in the process of creating my store."
"The plugins are great. The integrations with WooCommerce and with WordPress are excellent. Even though I'm a beginner, I think they've given me enough resources to really get it going. I believe my custom store is exactly what I wanted. It is actually more, it exceeds my expectations -- with really little input I actually gave them from my side."
"I love everything about my store, especially the logo of my store. If I would be given a chance, I would get another store and work with AliDropship again. And I would definitely recommend AliDropship to my friends or to whoever is planning to have an online business. Thank you!"
"I'm really happy to make this video today because I've just got my first online store. A big shoutout and thank you to AliDropship. Without you guys, it wouldn't have been possible. I've got no idea on how to start a dropshipping store. I took a big step forward to start with AliDropship."
"The reason why we decided to start dropshipping is that's an easier method to start with: obviously, you don't need a lot of capital to start. We would definitely work with AliDropship again. You guys have created a website for us which is very very professional, which we do like!"
"I bought the Ultimate Package and it came with 200 products. AliDropship pretty much completely helped me set up my entire store. They also provide you at the end of your experience with this giant sort of a booklet-like thing with about 41 pages that tells exactly how to run your dropship store."
"From the time I started I was allocated the project manager who told me everything I needed to do in order to make my custom store a success. And even now my custom store has been delivered I still keep in contact with my project manager regularly for any updates or for any advice on things I can do for business' success."
"I chose the custom store website and I took the Basic plan, I was very conservative about it. It's amazing because you don't have to pay monthly fees, it's just a one-time payment, and it gives you unlimited products that you can import from AliExpress to your own website."
"I came across an ad for AliDropship, a platform for dropshipping. I looked into the offering and the thing that attracted me most was the fact that the store built on this platform will belong to me for life. I can give it as a gift or leave it to anyone to inherit and do whatever I want!"
Sounds too good to be true?

See MORE feedback from the community:
Rated
4.8
out of 5 based on
787 reviews
on
Glendalee Gurne
Aug 11, 2020
I am now a DropShipper
Yes, i am now a certified dropshipper! My dream to be one made it a reality by AliDropship Team headed by my Personal Manager Andrei Kazancev. I am so happy i found them who helped to do all the hard work for me. I just need to spend my time in my marketing...
Camille Rahal
Jul 31, 2020
Professional team
Really professional and very helpful team, I was scared when I started & the result made me so happy! Thank you all
Steffan Andersen
Jul 27, 2020
Amazing job!
The team working on my store did an amazing job! I gave the team full control of design, logo and name, and they did NOT disappoint. Very fast respons, informs you about every step of the process, very easy to work with. I will definitely be using their services again! They set me up to success :)
Matt Brown
Jul 25, 2020
Alidropship are an amazing business
Alidropship are an amazing business. The team are extremely knowledgable and courteous, patient and efficient. I had no idea about setting up GA, or Paypal, or anything else, and they were brilliant. I can't recommend them highly enough.
Robert Warburton
Jun 23, 2020
I wanted to make a site
But I'm not too tech-savvy, unfortunately. After doing a bit of research I came across AliDropship which I found can actually get you started, and with a turn-key shop which you can help build. So I got myself one which was completed in about 2 weeks. Completely running with all the bells and whistles...
Dylan Van Zyl
Jun 23, 2020
Excellent service
From the start to finish I was kept in the loop as to what was happening, it was a smooth process! I definitely recommend.
Fakhriah Halim
Jun 19, 2020
Efficient Team, Easy Guidelines
The team is very efficient. They work fast, meet deadlines while the guidelines given are not at all confusing and this coming from a person who is not tech savvy. We may not have constant communication which I find a good thing as I still have a full time job. However, I can track and see their...
Real people. Real success